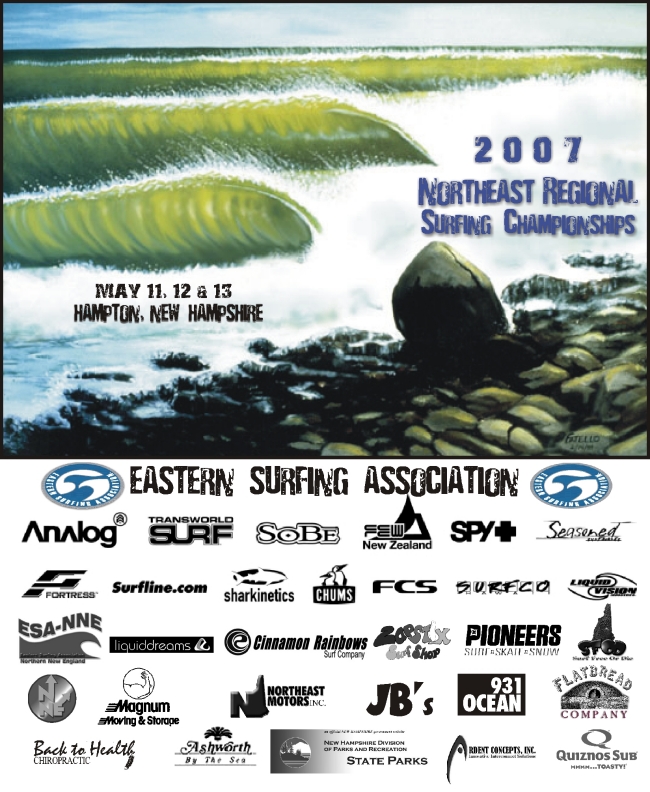 T-Shirts still available CONTACT for info ESA NNE District Directors Lenny/Arlene Nichols
email wing_chunln@hotmail.com Home (603) 926-7323 Cell (603) 944-2418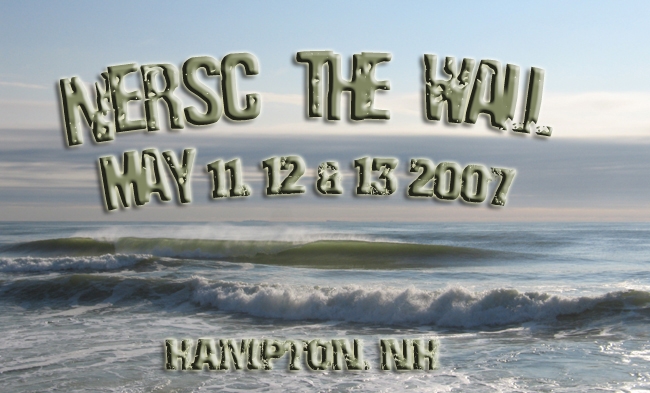 NNE-ESA NERC 2007 REGIONALS
Are you ready? Are you pumped? You better be! The Biggest Contest EVER is
coming to our beaches next weekend. Pray For Surf Like You've never done before.
Seriously, we all know how good it can get around here. Let's show our brothers
and sisters from down south how good it can get! Whatever kind of surf we get
let's remember, that we are all representing our Region. Be humble and be proud.

CHECK THE ESA SITE FOR HEAT TIMES www.surfesa.org


2007 Northeast Regional Surfing Championships to be held in New Hampshire, Hosted by the
Northern New England District. The Director's Meetjng will be held Thursday night, May 10, 2007
at a time and place to be finalized. Adult Competition Schedule to begin Friday, May 11 at 10th St.,
North Beach, Hampton, N.H., the Youth Schedule will begin Saturday, May 12 and conclude
Sunday, May 13. Should surf conditions warrant, contest site will be moved with all sites from
Hampton River to Straws Point in play.

The Adult events will be concluded Friday, or sometime Saturday. The Adult Awards will take
place at the Contestants' Banquet Saturday evening at the Ashworth Hotel. There will also be a
raffle held at the Banquet for product donated by various sponsors and supporters. The Youth Awards
will take place Sunday following the conclusion of the Finals, weather permitting. Should weather
be inclement, Youth Awards will be held at a sheltered location to be finalized.

The Banquet will feature "live" entertainment by local artists The Nor'easters.

| | | | | | |
| --- | --- | --- | --- | --- | --- |
| Home-News | 2007 NNE Schedule | 02-07 Standings | Photos 02-07 | Links | Contact |
Site Designed and maintained by Adlantic 2007 copyright